Passano intere giornate chiusi nelle loro stanzette e quando escono- generalmente nelle notti di luna piena- lo fanno solo per partecipare nei boschi a buffi raduni, pieni di costumi medievali e spade di cartone. Sono eccentrici, fissati, un po' autistici e talvolta apertamente sociopatici. Sono i videogiocatori, una strana specie di alieni approdata alle nostre latitudini quasi per caso. Di loro, e dei loro eccessi, parlano ogni tanto i giornali e la tv: c'è quello lasciato dalla moglie perché trascurava i doveri coniugali in favore della console, quello in cura dallo psichiatra per dipendenza compulsiva da Ultima IV e, (proprio laggiù in fondo) anche quello che si è venduto la macchina per comprare nuovo equipaggiamento a World of Warcraft. Non destano ancora un vero allarme sociale, i videogiocatori, ma la soglia di attenzione nei loro confronti resta comunque alta. Anche perché, come spiegano associazioni genitoriali e politici, il loro esempio potrebbe essere seguito da bambini e adolescenti. E allora sarebbero guai per davvero.
Ok, stavamo solo scherzando. Certo, se cercate sulla grande stampa continuerete a trovare soltanto storie come quelle qua sopra, con le spade di cartone i divorzi e tutto il resto. Ma se provate a domandare a loro, ai giocatori, scoprirete che da raccontare c'è qualcosa di più. Perché negli ultimi anni il panorama relativo al consumo di videogiochi è cambiato un bel po', con l'ingresso nella "fotografia" di nuovi pezzi di pubblico e di abitudini, aspettative, desideri differenziati. E allora val la pena di provare a scoprirne qualcosa, di questo panorama emergente. E di vedere che faccia hanno i videogiocatori.
Il dato da cui partire è senz'altro l'esplosione dei numeri. Nel Regno Unito quasi il 40% dei cittadini gioca abitualmente ai videogame, racconta il Rapporto Nielsen- ISFE 2008 . Ed i dati relativi agli Stati Uniti sono ancora più impressionanti: secondo GameDaily , che riprende i risultati del Gaming Segmentation Report 2008 di NPD Group , un cittadino statunitense su due ha provato i videogame almeno una volta nella sua vita, con una percentuale che cresce al 72% tra gli under 44. Con riferimento all'Italia, dove mancano rilevazioni statistiche altrettanto esaurienti, parlano però i dati sulle vendite di videogiochi e console: stando ai dati contenuti nell'ultimo Rapporto AESVI , infatti, nel 2007 sono stati venduti in Italia quasi 18 milioni di giochi (34 unità al minuto, +13% dall'anno precedente) e 23.374.057 apparecchi (+40,8% rispetto al 2006). Le console, viene documentato, sono oggi presenti in una casa italiana su tre.
A fronte di numeri simili, è difficile pensare che a videogiocare siano solo ragazzini e smanettoni. E infatti non è così, come ci confermano anche i testimoni contattati per questo articolo da Punto Informatico . Dice ad esempio Andrea (anni 33, professione docente universitario): "Le piattaforme di gioco di ultima generazione, penso in particolare alla WII di Nintendo, hanno portato un allargamento evidente del pubblico sia verso gli over 50 che verso le ragazze. Fino a qualche anno fa, col cavolo che sarei riuscito a mettere un controller in mano a mio padre o a mia zia. Invece con Wii Sports di Nintendo li ho convinti entrambi!". Ed effettivamente, anche se loro forse non lo sanno, il papà e la zia di Andrea fanno parte di un segmento estremamente dinamico nel panorama videoludico: i senior players .
Sono anche in questo caso gli Stati Uniti a fare la parte del leone: se guardiamo ad esempio le statistiche relative agli accessi di Pogo.com , uno dei più importanti portali nordamericani specializzato in giochi, scopriamo che una porzione considerevole (oltre il 30% nel primo trimestre 2007) delle sue visite vengono da individui over 50. A documentarlo è un gustoso articolo del New York Times, dove si racconta tra l'altro della crescente popolarità di console e pc games all'interno delle senior communities, delle navi da crociera ed in altre, ancor più insospettabili, realtà d'oltreoceano.
E se in Europa il movimento del "senior playing" appare meno vivace – tra gli over 50 di UK, Spagna e Finlandia ci sono solo tra il 3% ed il 6% i giocatori attivi, secondo Nielsen – anche da noi il fascino dei videogiochi sta cominciando a fare proseliti. Giancarlo (69 anni, ex manager di un gruppo di grande distribuzione) racconta ad esempio: "Mi sono avvicinato ai videogiochi quasi per necessità. Avendo due nipoti che chiedevano di fare qualcosa sul computer, ho cercato dei giochi sui siti free, usando i motori di ricerca. Ero alla ricerca di giochi in cui i bambini potessero interagire con cartoni animati, spostando oggetti o risolvendo piccoli quiz". E aggiunge: "All'inizio ho vissuto l'esperienza con un po' di meraviglia, anche perché erano loro a proporre a me, anziché io a loro. Ma, con tutto questo, giocare era e resta gratificante anche per me. Anche perché, al di là degli aspetti di apprendimento, ho l'impressione che attraverso il gioco si attivi tra me e loro un canale di dialogo diverso".
Oltre ai senior, l'altro segmento demografico emergente nel panorama del videogaming è senz'altro quello femminile . Una ricerca ESA, già ripresa su queste pagine , evidenzia come negli States la platea dei gamer sia ormai composta per il 40% da donne. Di fronte ai videogiochi, racconta allo Spiegel la sviluppatrice Heather Kelley, le esponenti del gentil sesso esprimono desideri e preferenze parzialmente diverse da quelle maschili. In particolare, le donne tendono a preferire il gioco in gruppo rispetto a quello in solitaria, privilegiano i titoli di simulazione e "caring" rispetto ai titoli più muscolari, giocano di più in modalità mobile. Per intercettare questa diversa sensibilità, le case produttrici hanno nel tempo allargato e differenziato la propria offerta, proponendo in quantità giochi di simulazione, ad enigmi, di cura. I loro sforzi sembrano coronati da successo. Dice ad esempio Eloisa (30 anni, analista organizzativa): "Io non sono mai stata una videogiocatrice. Ma allo stesso tempo mi sono sempre piaciuti i giochi di logica e di abilità. E così, quando ho scoperto dell'esistenza Brain Training mi sono incuriosita ed ho acquistato una console mobile. Per la verità non ci ho mai perso le giornate, mi ci sono divertita un mondo: la possibilità di migliorarmi quotidianamente, e di sfidare in tempo reale amici e parenti, mi hanno gratificato molto". Insomma, ci stiamo accorgendo che il "plotone" dei videogiocatori si è allargato un bel po'. E scopriamo anche che, in parallelo all'allargamento del pubblico, si vanno differenziando anche le sue abitudini – ed i suoi tempi di permanenza – davanti allo schermo. Ad un estremo del continuum vi sono soggetti che, come Eloisa, dedicano ai giochi solo pochi minuti al giorno, magari in autobus o sulla metropolitana. All'altro estremo, hardcore gamers tradizionali come Gorgo (33 anni, impiegato), il quale candidamente racconta a Punto Informatico : "Durante la settimana, non riesco a spararmi più di un paio d'ore di gioco al giorno. Ma nel week end, in compenso, dopo aver sbrigato le commissioni e fatto la spesa, accendo la mia Xbox360 e ci do sotto di brutto". Da una parte, quindi, abbiamo i giocatori occasionali, dall'altra gli heavy gamers .
E in mezzo? In mezzo c'è uno stuolo di persone che dedicano ai videogames porzioni di tempo significative ma circoscritte: secondo il già citato Rapporto Nielsen-ISFE 2008, infatti, solo il 14% degli italiani passa davanti al monitor più di 10 ore settimanali, mentre sono molto numerosi quelli che giocano tra 1 e 5 ore oppure tra 6 e 10 ore la settimana (rispettivamente, 45% e 35% del totale). Tra questi giocatori "moderati", poi, è possibile distinguere attitudini diverse: ci sono persone che scelgono deliberatamente di giocare poco, ma ve ne sono anche altre per le quali l'auto-limitazione è soprattutto una necessità, dettata magari dagli impegni familiari o lavorativi. Dice ad esempio Damiano (23 anni, studente): "Fosse per me giocherei tutti i giorni, magari anche più dell'oretta di oggi. Ma poi lo studio – ed il fatto che la PlayStation3 ce l'ha mio fratello – mi mettono qualche limitazione in più. E così mi accontento".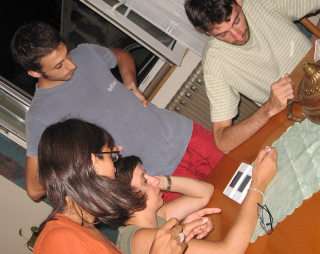 Le parole del nostro ultimo testimone ci consentono di avvicinarci ad un'ulteriore dimensione di interesse nella vita dei videogiocatori, e cioè la scelta degli apparecchi e delle modalità di gioco . Ascoltando Damiano, Eloisa, Gorgo o lo stesso Andrea, potremmo pensare che le console siano praticamente l'unica piattaforma usata per giocare. E invece gli strumenti a disposizione dei gamer sono molteplici, e sono altamente differenziati anche i modi in cui essi sono impiegati. A livello di piattaforme, il Rapporto Nielsen ci conferma che le console (sia fisse che mobili) stanno conoscendo un vero e proprio boom di vendite in tutta Europa, ma segnala anche che il pc "resiste" come supporto preferito un po' dappertutto.
Dopodiché, tanto le console quanto i computer offrono una gamma di opzioni di gioco pressoché sconfinata: le modalità solitarie tradizionali (un individuo di fronte ad una macchina) sopravvivono, ma accanto ad esse si affermano opzioni differenti che vanno dal gioco collettivo in compresenza fisica (con dispositivi wireless o LAN), ai casual games dei grandi portali, fino agli online games ed ai giochi a sottoscrizione (come il celeberrimo World of Warcraft, giocato da più di 10 milioni di persone nel mondo). La dimensione social consentita dal gioco in rete, in particolare, sembra essere particolarmente apprezzata dai giocatori. Dice ad esempio Felice (32 anni, assicuratore): "L'atmosfera goliardica che si crea giocando con altre persone, soprattutto in compresenza fisica, fa aumentare moltissimo il divertimento. Ricordo sessioni sparatutto, durante dei LAN party del passato, in cui io e miei ospiti siamo arrivati anche a metterci le cuffie per ascoltare (e spaventare) meglio gli avversari".
Siamo così arrivati in fondo al nostro viaggio nella vita quotidiana dei videogiocatori. E abbiamo scoperto così una quantità di cose interessanti. Ci siamo resi conto, per esempio, che ai videogiochi ci giocano ormai centinaia di milioni di persone, di tutte le età e di tutti i generi. Abbiamo appreso che, lontano dagli stereotipi, la percentuale di persone che davanti al monitor bruciano le loro giornate (e magari i loro neuroni) è largamente minoritaria rispetto al totale. Ed, ancora, ci siamo resi conto che il divertimento videoludico può persino diventare un'attività sociale, attraverso la quale ritrovarsi e divertirsi con altri esseri umani. Abbiamo capito, in una parola, che il mondo dei videogiochi è un po' più sfaccettato (e interessante) di come i titoli strillati dei giornali vorrebbero farci credere.
Per ora la chiudiamo qui, anche perché devo andare a recuperare la mia spada di cartone.
Giovanni Arata