Negli ultimi tre giorni si è consumato un atteso piccolo terremoto in AMD che potrebbe avere, in qualche modo dovrà avere, un effetto profondo sulle strategie globali dell'azienda. Il secondo chipmaker, il dinamico rivale di Intel, sulla spinta di azionisti non più disposti ad accettare i conti in rosso che si sono accumulati negli ultimi trimestri, si è dotato di una nuova leadership. Un sisma anticipato dall'azienda ma improrogabile: fortissima è la necessità di tornare rapidamente ai profitti e a ricchi dividendi ma soprattutto di tirare i remi in barca, concentrarsi sulla parte solida del business e rinunciare a qualche ambizione di troppo.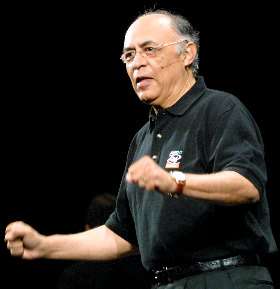 Per sei anni e fino a tre giorni fa il CEO dell'azienda, Hector Ruiz (nella foto), ha combattuto una guerra senza quartiere, un conflitto con la rivale Intel che si è esteso dal mondo dei microprocessori all'intero comparto dell'alta tecnologia per dispositivi elettronici e che proprio sotto la guida di Ruiz si è arricchito di una quantità impressionante di contese legali .
Ora il nemico numero uno di Intel, il dirigente del produttore che ha osato sfidare il gigante dei chip, lascia il posto ma non la posizione: Ruiz si adegua al grande cambiamento di cui abbisogna AMD, accetta ed è anzi protagonista di una rivoluzione che lo spodesta, ma non rinuncia alla sua battaglia. Nel suo nuovo ruolo di executive chairman e chairman of the board coordinerà le azioni legali di AMD contro Intel : scopo della missione è dimostrare quello che Ruiz sostiene da anni, ovvero che Intel abbia drogato il mercato di riferimento per le due società, abbia stretto accordi illegali con molti distributori e produttori, abbia brigato per sbattere fuori i concorrenti. Ruiz definisce Intel senza mezzi termini un "monopolio illegale". La sensazione è che il 62enne Ruiz veda nella battaglia legale contro Intel la chiave di volta per AMD , una tesi che non convince tutti, ma la guerra è in corso ed è decisamente troppo presto per comprenderne tutti gli effetti. Quel che è certo, è che proprio l'azione di Ruiz abbia fatto sì che Intel oggi sia indagata dalle autorità antitrust in Europa come negli Stati Uniti come in certi paesi asiatici, e che le sue procedure di business siano, e saranno, sottoposte ad un vaglio certosino. Se saranno provate le irregolarità che Ruiz denuncia, la bilancia del mercato potrebbe spostarsi; che si sposti a sufficienza per riportare in alto AMD, però, è tutto da verificare.
Il fatto che AMD abbia presentato conti tutt'altro che entusiasmanti anche per il trimestre appena concluso e abbia contestualmente annunciato le trasformazioni al vertice, ha suscitato qualche facile ironia , di certo però c'è solo che l'ulteriore trimestre rosso abbia accelerato un cambiamento già avviato, le perdite sono consistenti e se si tolgono a quelle i profitti della vendita di certi apparati, non ci sono miglioramenti significativi rispetto ai trimestri precedenti. Sui risultati di AMD pesano moltissimo naturalmente i ritardi di Barcelona , processore del tutto centrale nelle strategie del chipmaker, che hanno sconvolto previsioni e mercato di riferimento sul medio periodo, ma pesa anche e ancora l'acquisizione di ATI che porta sì profitti, ma che ancora va smaltita.
Sia come sia, secondo Ruiz il momento del cambiamento è giunto ed è il momento migliore perché avvenga . Spiega che ora "Barcelona è in distribuzione" e che "la migrazione ai 45 nanometri procede secondo i piani", una conversione industriale che spingerà ulteriormente la competizione con Intel, centrale al recupero di mercato e produttività dell'azienda. "Ecco perché – ha dichiarato Ruiz alla stampa – è giunto ora il momento di lasciare l'azienda nelle mani di un nuovo leader, di uno che abbia guadagnato la fiducia dei clienti e dei partner AMD nel mondo".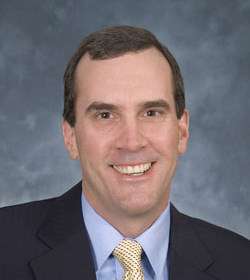 Il futuro si chiama Dirk Meyer , finora numero due di AMD , un geniaccio considerato tra l'altro il padre di Alpha, il mitico processore di Digital Equipment poi infuso in Intel insieme a tutta l'azienda, nonché la mente ispiratrice dietro Athlon. Il riposizionamento di AMD lascia alla guida dell'azienda l'ex COO, da sempre in ottimi rapporti con Ruiz. Proprio Meyer durante le prime scosse di assestamento del mercato, quando le novità AMD sono divenute ufficiali, ha voluto sottolineare che grazie a Ruiz AMD ha potuto costruire "una presenza globale, con una espansione coraggiosa in Cina, America Latina, India e Medio Oriente". Inoltre, ha detto subito Meyer, è grazie a Ruiz che AMD ha stretto nuovi importanti rapporti di collaborazione con "OEM e produttori software" di primo piano. Il tentativo esplicito dell'azienda è quello di far apparire il passaggio di consegne come la conclusione di un processo naturale: il consigliere di amministrazione Robert Palmer ne parla peraltro come "la fase finale di un passaggio iniziato due anni fa". Nessun segno di accelerazione sul passaggio di consegne, dunque.
Poco importa, in realtà: gli azionisti hanno chiesto ed ottenuto un cambiamento i cui effetti sono tutti di là da venire. Se Ruiz si focalizzerà sull'offensiva legale contro Intel, il 46enne Meyer avrà mano libera nella gestione delle operazioni e nella determinazione delle strategie, e sembra avere le idee chiare su quale sia il suo mandato. Ha già parlato di rifocalizzazione dell'azienda in modo da aggredire con forza porzioni utili di mercato, dando più volte ad intendere l'impossibilità per AMD di competere con Intel sull'intero spettro del comparto.
È proprio attraverso questa ristrutturazione degli obiettivi che Meyer spera di tornare ai profitti entro il 2008, una speranza a cui gli analisti danno credito, anche se questo significherà tagliare qualche ramo non centrale e spingere sull'innovazione. Prima di fine anno AMD sfornerà in volumi il suo Shangai , processore che in sostanza ripropone l'architettura Opteron sui 45 nanometri, sebbene la vera "revolution" che Meyer conferma è attesa per il 2009, quando CPU e GPU saranno sullo stesso pezzo di silicio nell'ambito dell' accelerated computing .
La competizione con Intel si focalizzerà su settori emergenti, come quello dei notebook low cost : Meyer spera di competere con Atom e lo farà con una strategia che sarà annunciata il prossimo novembre con al centro, probabilmente, il suo chiacchierato Bobcat . Per ora gli occhi sono puntati su Wall Street: è in quella sede che Meyer dovrà convincere gli investitori della forza di AMD, dovrà spingerli a credere nell'azienda e nel suo futuro, ed è lì che andrà a raccogliere gli eventuali frutti della ristrutturazione.