Espoo (Finlandia) – In qualità di padre del World Wide Web e propugnatore di una visione della tecnologia al servizio del progresso umano, il fondatore del World Wide Web Consortium e scienziato del MIT Tim Berners-Lee ha ricevuto una altissima onorificenza assegnatagli da una organizzazione internazionale sostenuta dal governo finlandese.
Berners-Lee è il primo individuo a vedersi assegnare il Millennium Technology Prize , che consiste in una borsa da 1 milione di euro e nel riconoscimento del ruolo assunto dallo scienziato nel promuovere sviluppo ed economia "a misura d'uomo".
"Il Web – ha spiegato il chairman del Comitato di assegnazione del premio, ex segretario generale dell'organizzazione internazionale delle telecomunicazioni ITU Pekka Tarjanne – ha migliorato significativamente la capacità di molti di ottenere informazioni essenziali per la propria esistenza. Il Web incoraggia nuove forme di connessione sociale, sostiene la trasparenza e la democrazia ed apre nuove strade alla gestione dell'informazione e allo sviluppo dell'economia".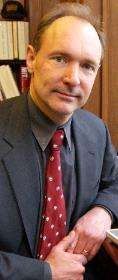 Il Comitato ha ricordato che Berners-Lee, mente dinamica dei laboratori del CERN , in quella sede, nei locali del Laboratorio dedicato alla fisica delle particelle, creò gli elementi essenziali alla nascita del web. Oggi Berners-Lee, alla guida del W3C in seno al Massachussets Institute of Technology, continua a lavorare per lo sviluppo del web in un'ottica di accesso il più aperto possibile alle tecnologie, lui che ha rinunciato a brevetti che avrebbero potuto arricchirlo enormemente.
Il Millennium Prize è stato assegnato a Berners-Lee su 74 altri candidati. La prossima assegnazione avverrà nel 2006.
Nel recente passato, il suddito di Sua Maestà britannica Berners-Lee per i suoi alti meriti aveva ricevuto il titolo onorifico di Knight Commander, Order of the British Empire .